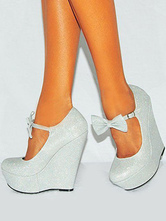 Silver Wedge Shoes Plus Size Women Shoes Sequined Round Toe Platform Bow Wedges
Reg. Price: 105.04
Sale Price:
Tips for writing reviews

Your review should focus on specific features of the product and your experience with it. For video reviews, we recommend that you write a brief introduction.
We welcome your honest opinion about the product--positive or negative.We believe all helpful information can inform our customers' buying decisions.
Contents for what's not allowed

•
•
•
•
•