Silhouette: Trumpet / Mermaid
Neckline: Sweetheart
Hemline/Train: Court Train
Waistline: Empire
Strap Style: Strapless
Sleeve Length: Sleeveless
Embellishment: Ruched , Applique
Back Details: Lace-up
Built-in Bra: Yes
Fully Lined: Yes
Petticoat Required: No
Fabric: Taffeta
Shown Color: Red
Body Shape: Slender , Hourglass
Season: Spring , Summer , Fall , Winter
Venues: Chapel , Hall
Style: Elegant & Luxurious
Weight: 1.73kg
This taffeta Wedding dress features its red mermaid silhouette with empire waist,pleated and applique design. Simply magnificent! This dress is available from size 2 to size 28. We also offer a made-to-measurement service if you need.
Interesting in bulk purchases of Milanoo items?
Contact our agents at the address below and we will help you set it up! Happy shopping!
Wholesale@milanoo.com
Color Chart:
Color
Champagne
Ivory
White
Silver
Pink
Red
Trim Color
Note: Please bear in mind that photo may be slightly different from actual item in terms of color due to the lighting during photo shooting, display or the color temperature etc.
Size Chart-Regular Size
US
2
4
6
8
10
12
14
16
UK
4
6
8
10
12
14
16
18
EUROPE
32
34
36
38
40
42
44
46
inch
cm
inch
cm
inch
cm
inch
cm
inch
cm
inch
cm
inch
cm
inch
cm
Bust
32 1/2
83
33 1/2
85
34 1/2
88
35 1/2
90
36 1/2
93
38
97
39 1/2
100
41
104
Waist
25 1/2
65
26 1/2
67
27 1/2
70
28 1/2
72
29 1/2
75
31
79
32 1/2
83
34
86
Hips
35 3/4
91
36 3/4
93
37 3/4
96
38 3/4
98
39 3/4
101
41 1/4
105
42 3/4
109
44 1/4
112
Shoulder to Floor
58
147
58
147
59
150
59
150
60
152
60
152
61
155
61
155
Size Chart-Plus Size
US
16W
18W
20W
22W
24W
26W
UK
20
22
24
26
28
30
EUROPE
48
50
52
54
56
58
inch
cm
inch
cm
inch
cm
inch
cm
inch
cm
inch
cm
Bust
43
109
45
114
47
119
49
124
51
130
53
135
Waist
36 1/4
92
38 1/2
98
40 3/4
104
43
109
45 1/4
115
47 1/2
121
Hips
45 1/2
116
47 1/2
121
49 1/2
126
51 1/2
131
53 1/2
136
55 1/2
141
Shoulder to Floor
61
155
61
155
62 1/4
158
62 1/4
158
62 1/4
158
62 1/4
158
Measuring Guide: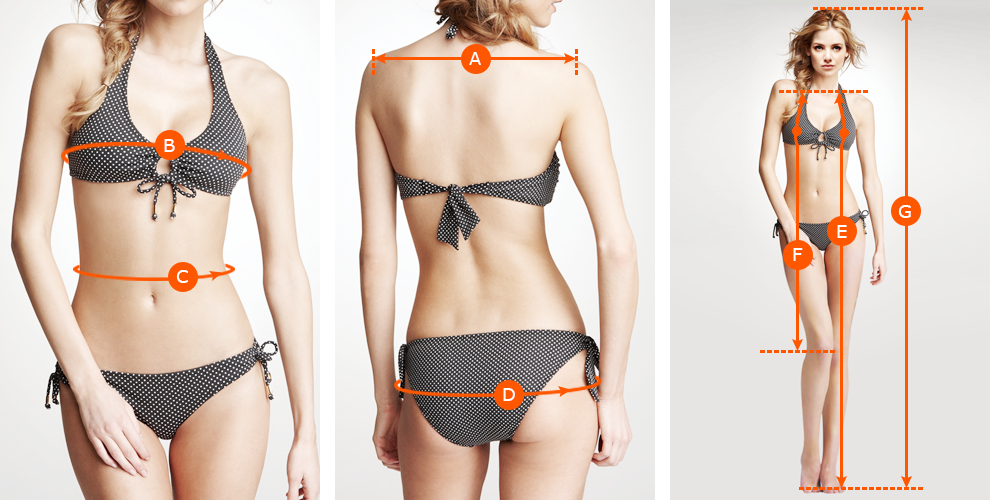 A. Shoulder Width Measure across the back to the same point on the other shoulder
B. Bust 1. This is not your bra size
2. Wear a bra
3. Relax arms at sides
4. Pull tape across the fullest part of the bust
C. Waist 1. Find the natural waist
2. This is the smallest part of the waist
3. Usually about 1 in. above belly button
4. Keep tape slightly loose to allow for breathing room
D. Hip 1. Find the widest part of the hips
2. Usually about 7 in. below natural waist
3. Tape should brush across both hipbones
E. Shoulder to Floor (over bust) 1. Wear a bra.
2. Measure in bare feet.
3. From top of shoulder, down over the tip of one breast and down to the floor.
F. Shoulder to Knee (over bust) From top of shoulder, down over the tip of one breast and down to your knee.
G. Height 1. Measure in bare feet.
2. Begin at the top of head and pull tape straight down to the floor(your standard height measurement).
To fit high heels, we will add an extra 5-8cm for custom-sized floor-length dresses and dresses with trains.
We have a wide range from the latest dress style to popular classic gowns for you to choose the perfect wedding dress.
Let it accompany you in your happiest and lifememorial moment.
WEDDING DRESS SHOWROOM
FORMAL DRESS SHOWROOM
Our factory was founded in 2005,located in Guangdong,China.
We focus on producing gorgeous wedding dresses,ball gowns and other garments professionally.
We have the best designers and experienced dressmakers.
Our Work Flow Management System(WFMS)is fully applied to make sure the good quality of our dresses efficiently.
Pattern Making
Handcrafted Beading
Embroidery
Handcrafted Applique
OUR FINEST WEDDING PRODUCTION TECHNIQUE
1.High-quality Fabric all overUsing high-grade 395 satin includes imported fabric.395 satin has soft touch thick texture and beautiful gloss.And it is heavier than any other type of satins.
2.Modern Tailoringmodern tridimensional cutting is fully adopted.The dressmaker will cut out a preliminary cloth pattern of dress directly off the mannequin.After a series of professional progress and adjustment,the clothpattern would be transformed into a more accurate paper pattern.Then the wedding dress will be tailored based on this.
3.Magical Fish BonesOur dresses are made with 4-7 high-density fish-bones,firm and elastic with perfectly fixing-effect which hold the body up straight and create a flattering shape.Besides,the fish bones would be almost invisible because of an evenly sewing technique.Security band are attached on the back to avoid uncomfortable awkwardness.


Poor-quality wedding dress is roughly made with no fish bones which has no shape and looks cheap.
4.Perfect Liningskin-friendly cloth is lined in the skirt by 0.08-0.15cm evenly consistent needle code.Totally-enclosed overlock looks clean and elegant.


the border of poor-quality dress' skirt has no lining inside,simple overlock with loose stitching,easily get worn out.
Exquisite ZipperIn-built zipper needs lots of complicated works,but looks great and feels nice.All using YKK zipper imported from Japan.cc


On poor dress,the zipper is ungainly exposed,and they use cheap zippers on the bodice.
SERVICE DESCRIPTION
PACKAGE

A well-designed box for the item guarantees the safety of storage,shipping and delivery.
LOGISTICS

We use famous united international express companies to make sure you can receive your goods quickly and safely.
STORE HOUSE

To ensure the update rate and ordered supplies, the professional logistics center scientifically manage every piece of item.
PROFESSIONAL

The fully-fledged and large customer service center will solve every requirement with their patience, make sure you shopping happily and rest assured.
TRUE

We use professional equipments for real shooting and color-correcting, make sure the color aberration is minimized. Start using extra-big image to show you the fabric texture and tiny details.
Milanoo Service Guarantee
Smile is a simple facial expression, but it transmit many meanings, things and to be understood by different person.
At Milanoo, delivering smile is the core value of our service. It means to deliver an attitude of optimism and positivity, a spirit of enthusiasm and passion, a service of sweet (comfort) and warm. We expect every staff to deliver smile internally and externally, it is a good way to build trust and result in word of mouth.
We expect to receive your smile by viewing through webpages; a comfort chatting with our customer service staff; when opening the box; or even feel of ease and convenience if you like to return or exchange the item.
Here we deliver not only the wonderful products but also a sweet smile to you!
We Deliver Smile
1.Under the premise of our endeavor 100% of your satisfying our product. In any case and unfortunate to receive message of dispute, please don't worry, we guarantee an easy return.
2.With our huge respect and sense of hospitality, you will feel a lot of ease when surfing at Milanoo.
3.Carrying smiley, speedy and patient manner, we caring any of your inquiries by instant live chatter, telephone or email in 8 major languages and accessible by multiple channels and platforms.
4.Full refund is guaranteed on your order must be accomplished no later than the designated processing period. Or even you may change your shipping address any time before order shipment.
Customer Reviews
This dress was a perfect fit and truly amazing.... everybody fell in love with my dress and it made my wedding the talk around town.

Was this review helpful to you? Yes(0) or No(0)

Share this review

I love this dress alot, but i just wanted to know if the dress came in white and blue I would like the blue where the white is at. My color is horizon blue. I would love to hear back this is my first choice.

Was this review helpful to you? Yes(0) or No(0)

Share this review

i did order this dress today so i i wish when i receive it i like it and i will let you know how is the dress

Reply:
Dear lyanmahmoud,
Thanks for your supporting We hope you will like this dress

Was this review helpful to you? Yes(13) or No(3)

Share this review
Product Q&A
product information
Hi there, I am very interested in this dress but I was wondering if there was any way I could see it in white?


I'm so deeply grateful for your kind concern of the dress,but I feel very sorry for that the pic of the dress comes in white is not available temporary .thanks~
product information
I have a question i am trying to order this dress and looking at it for months now!problem is i have seen it on many sites! I would like it silk and a darker color red like burgundy does the dress look exactly like the picture because i have seen this dress on many sites but after getting the examples it is not turning out the way it looks in the picture? Please help my wedding is in August and i would really love to order this dress i have been searching many different sites for it and everyone tell me you guys are the greatest and most reliable!


the color option for this style has showed on the website http://www.milanoo.com/p6031.html,you could choose what you like
By christine vanvorst
7/6/2012
?
Hi, my nickname is beng. We will have our silver wedding anniversary this coming june 27, 2012. I would like to have this kind of dress but I only have a small built body and short less than 5' tall. Do you think I would look good in this kind of gown? My waistline is 30inches, bust size 36 cupB. Can you also make some attachment like spaghetti strap? I would like to have burnt orange combination and silver color inner materials. How much is the shipping cost in the Philippines?


Please kindly choose tailor made option and then the fit will be perfect. I am sorry that we cannot add straps for the dress and the shipping to Philippines is not available.
By Maria P. Pizarro
21/2/2012